tips for Italy, part 4

In October 2002, I had a series of email exchanges with Lori Shodis of Cambell, California, who, after reading my experience in Rome on Rick Steves' Graffiti Wall, decided to write me to get tips for her trip to Italy in November 2002. I thought I'd post my replies here because other travelers may find them useful. Below is a combination of my replies to her fourth and fifth emails (her comments are in bold italics):
At 11:18 AM -0500 10/23/02, Shodiss, Lori wrote:
So I thought of a couple more questions for you, I hope you don't mind Jeanni ;)
Not at all. Like I said, I received plenty of help from other Rick fans before I left, so I'm just returning the favor. :) After you return, you should post tips on Graffiti too; I'm sure others will be most appreciative also.
Paying for hotels - I have read and heard if you pay with cash you get more of a discount, did you find this or did you just use plastic?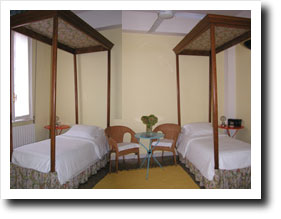 Our hotel room in Milan
(a composite of two photos, hence
the weird line down the middle)

We stayed at four different hotels, and used plastic at all but one of them because that hotel did not accept credit cards. I booked Hotel Botticelli (highly recommended) in Florence through Expedia; Hotel Aberdeen and Hotel Oceania in Rome already had special deals for Rick Steves travelers, so I didn't even think of negotiating for a better price. But Hotel Aberdeen was THE least expensive place we stayed at (€129 in October 2002, which is considered to be high-season) yet was one of the nicest, so I was happy paying what they asked for. Antica Locanda dei Mercanti (the one that does not take credit cards) in Milan said they don't have a special deal for Rick's people. Even though their rate is listed as €155 in Rick's book, we had to pay €180 because we happened to stay there during "Trade Fair Season", but the hotel people did give me advance notice of this when I booked my reservation. It's not worth €180 or even €155, however, but not because we received bad service — the staff was very friendly, actually. It's just that our room looked nothing like what is shown on their Website. Compare our room (see photo above) with what they advertise on their site. After reading Rick's glowing review about it, we had a "That's IT???" reaction when we went into our room for the first time. Notice there's just a thin rug on the floor, and there are NO curtains at the windows (a thin layer of white fabric block the view from the outside, but there was no way to pull it up during the day). There was no TV nor mini-bar; there was only a radio, two lamps, and an analog phone — which meant we couldn't use our calling cards to call home (we had to use the pay phone a block away from the hotel). Oh well.

Breakfast Included/Not Included - Did you go for the included breakfast at the hotel or eat at the local cafe?

We went for the breakfast included deal at every hotel except Antica Locanda because theirs was 8 euros EXTRA. Hotel Aberdeen serves nice bread roll, ham, cheese, yogurt, fruit, coffee, tea, etc. It was pretty good. We didn't mind eating in the hotel. We liked coming down from our room, getting food immediately, then setting out for museums right away. I wouldn't advise against getting food elsewhere though; different strokes for different folks.

I meant to ask you did you hit any fun bars while in Italy, what is the night life like there, just curious?

We were such fuddy duds, we didn't go anywhere. j/k Actually, because we always had dinner late (we always showed up at the restaurant at 7 p.m., which is actually WAY early by local standards), by the time we were done with dinner (usually around 9 p.m.; yes, it really does take that long to eat a four-course dinner and get your bill) we were just tired and ready for bed. Besides, we liked going to the attractions early in the morning to avoid the crowd, so we tended to head to bed early. You'll have to ask other Rick Steves readers about Italian night life....

One more question, did you make a reservation in advance for the Vatican, it doesn't seem so in reading about your trip? I was just wondering?

No, I didn't. Is there a way to make a reservation? I didn't see anything about that in Rick's book (nor on the Vatican site) so I just assumed you can't. The museum opens at 8:45, so we arrived at 8:30, only to be greeted by a very long line outside.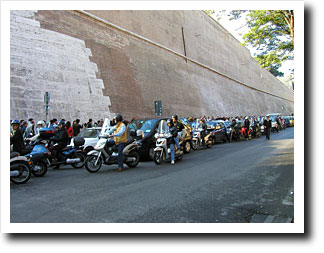 Long line outside the Vatican Museum

The photo you see to the right is not a really good picture because the line of people is obscured by all the cars and scooters. But basically it's all along the wall, and the entrance is around the corner to the right edge of the photo.

Once the line started moving (promptly at 8:45), however, we got into the museum in no time at all. The Musei Vaticani was by far the most efficient place we went to in Italy (surprise, surprise; it's probably because it's a separate country altogether, even though it's in the confines of Rome). Once you get inside, there are agents who direct you to the correct booths, and, basically, the long line just sort of disappeared.

Jeannie :)