Florence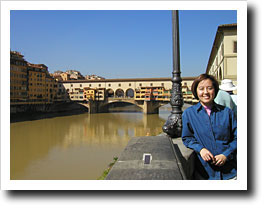 At the Ponte Vecchio
Day 1: Flew into Milan from San Francisco, and took the EuroStar Italia from Milano Centrale to Firenze Santa Maria Novella. Was hungry by the time we checked into Hotel Botticelli and reached the Duomo. We bought some sandwich and water from one of the many snack bars nearby, and had a nice respite on the steps, watching the world go by. We had our first Italian dinner at Trattoria Zà-Zà. The bruschetta (pronounced "broos-ke-ta", not "bru-she-ta" like they do in the Italian restaurants in the U. S.) was soooooooo delicious; the tomatoes were so sweet and the bread so fresh that they almost brought tears to my eyes. I experienced bruschetta perfection. The chocolate-covered panna cotta was also very good.
Day 2: First thing in the morning was a visit to the Accademia, where Michelangelo's David is housed. I was much impressed by the height of the statue, but I didn't think he looked all that confident. If you happen to see him, go towards the direction of David's gaze, then look back at him. You'll see that his furrowed brows give him a worried, almost scared look. After spending an hour in the Accademia, we walked around Piazza de Signoria, crossed Ponte Vecchio, had lunch on the west shore of the Arno River, then had rice-flavored gelato at Vivoli's, followed by a walk through the Church of Santa Croce, a 14th-century Franciscan church. Michelangelo, Machiavelli, Galileo, and Rossini are buried here. Because we hadn't adjusted to the time change, we went home and took a two-hour nap before having a home-style dinner at Trattoria La Burrasca, two blocks from our hotel.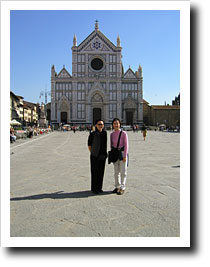 Jill and me in front of
the Church of S. Croce
Day 3: 8:15 a.m. reservation at the Uffizi. My personal favorites were Simone Martini's Annunciation, where Mary is shrinking away from the angel who brought the heavenly message, and Botticelli's Birth of Venus (it's the one where Venus is standing on an oyster shell, coyly covering herself with her hands). Afterwards, we checked out the grocery stalls in Mercato Centrale (lesson learned: do NOT touch the produce unless you have permission from the stall merchant, or you may literally get slapped on the wrist!!!), bought beautiful stationary from Il Papiro, and shopped around the streets of Florence. The department store La Rinascente reminded me of Nordstrom of the U. S. We had a sumptuous dinner at Trattoria Acqua Al 2, on recommendation of a group of fellow travelers we met on the train into Milan.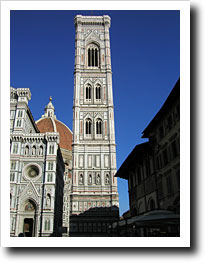 Giotto's 274-foot-tall Campanile,
or "bell tower"

Day 4: Another 8:15 a.m. reservation, and this time it was at the Bargello, which used to be a city hall, then prison, and now houses a collection of scuptures and medieval objects of art. Because we arrived so early, there were hardly anyone else at the museum, and we kept walking by guards who looked bored or were yawning. But we said "Buon giorno!" to each of them and they looked pleased. One hour was enough for this museum. We headed back towards San Lorenzo Market, where Jill bought a knockoff Burberry scarf for €5 (around 5 U.S. dollars), then we went to Mercato Centrale to buy some bread and tomatoes. After some light snack, we walked to the Duomo and climbed the 417 steps to the top of Giotto's Campanile. Because I get vertigo when I climb stairs, I went up slowly. The view was rewarding, however. The red tile roofs of Florence reminded me of the same in Venice. Very pretty and... old. I can't remember what we did the afternoon. Probably just walked around the streets and did more shopping. At night we had dinner again at Trattoria Zà-Zà.

Note: You can make reservations for many Florence museums from the U. S. by calling 011-39-055-294-883 (Mon-Fri 8:30 a.m.-6:30 p.m., Sat 8:30 a.m.-12:30 p.m., Florence Time, which is 6 hours ahead of Eastern Time). An English-speaking operator will ask you for your last name, which museum you like, the day and time you want to visit, and give you a six-digit confirmation number. You can make reservation for the following sights: Accademia, Uffizi, Bargello, Medici Chapels, and the Pitti Palace. Don't fret if you forget to bring the six-digit number to the museum with you; your last name and reservation time are enough to get you into the sight, as the gatekeeper will have a computer printout of the reservation.

Days 1 - 4 in Florence | Days 5 - 8 in Rome | Days 9 - 12 in Milan