trip preparation tips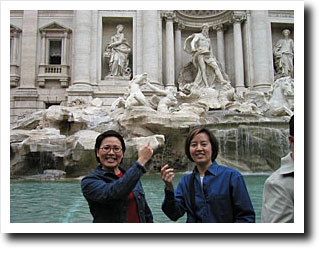 My friend Jill (left) and me tossing our
wish-bearing coins into the Trevi Fountain in Rome

I spent two weeks roaming through Florence, Rome, and Milan in October 2002. When I was planning my itinerary during the few months leading up to trip, I was filled with fear: I did not speak a word of Italian, rumors abound of pickpockets who prey on tourists, and how was I supposed to buy train tickets from the U.S. when the purchase function on the official Italian train site (http://www.fs-on-line.com/) was perpetually "temporarily disabled"???
Fortunately, you can get help from others who have been there. Rick Steves writes excellent travel guidebooks for Europe; I LOVE his humorous and almost irreverent way of looking at serious sculptures, paintings, and other things to which tourists are supposed to pay attention. Because I found his Paris guide extremely helpful during my one-week sojourn there in spring 2001, I decided to bring his Florence and Rome books along. Other guides in my suitcase:
Before I left, I also read, almost daily, messages on Rick Steves' Graffiti Wall. It's a treasure trove full of questions and answers posted by fellow travelers, ranging from the "How do I buy train tickets for the Czech Republic from the U.S.?" to "Where is the best money exchange place in Prague?" to "Are there free toilets in London's tube stations?" I posted several questions about the train situation in Italy, and got them answered promptly by other Road Scholars. Below are the message boards I used the most for this trip:
Although I had been in Venice two years ago, this was my first time exploring Italy, so to speak, because we had an experienced traveler in our group who knew where things were during the last trip. This time, I planned the details of our itinerary, chose the hotels based on recommendations from friends and Rick Steves, and booked them through a combination of email, fax, and phone. I also re-confirmed each reservation by email a few weeks before we left. Armed with the guidebooks and answers I received from fellow travelers, I set out for Italy with my friend Jill.
To my surprise and delight, everything on the trip worked out very well. Even though we spoke minimum Italian ("Buon giorno! Mi dispiace, parla inglese?" — "Good morning! I'm sorry, do you speak English?"), through gestures and English phrases, people understood us enough, and we bought train tickets, checked into our hotels, ordered meals, and visited museums and churches with no problems at all.
So that you don't get bogged down by the details, I've divided my itinerary into separate pages: Florence, Rome, and Milan. I've included information for many of the sights, so you might want to take a look and pick up tips on how to avoid long lines at the Colosseum and unscrupulous taxi drivers. But suffice it to say that we had delicious food all the way, visited many beautiful sights, saw quite a few handsome, well-dressed Italian men, and made good purchases — what more could we ask for? We even saw the Pope! It was a very god trip, and I am very much looking forward to my next journey to beautiful Italia....

Onward to my itinerary and tips for Florence, Rome, and Milan
(You can also read my 1) frequently asked questions or 2) series of email exchanges I had with another Rick Steves fan, who had questions about traveling in Italy)