Rome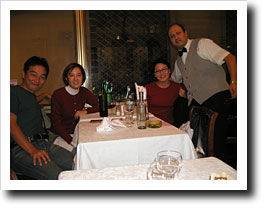 At the Hostaria Romana, with our silly waiter
and patron at a neighboring table

Day 5: Checked out of our hotel and caught the EuroStar Italia to Rome's Termini train station. We had been warned about unscrupulous taxi drivers, but unfortunately we still fell for the trick. The driver seemed very friendly at first, asking us what our names were and where we were from. Then we noticed the meter was not on. I knew the ride was supposed to cost us around 5 euros (a little less than US$5.00), so I asked the driver how much it was. He replied, in English, "40 euros." My head started reeling, and I said, "No no no!" to the driver, but by then it was too late. Our suitcases were in the trunk and we couldn't just jump out. The five-minute cab ride cost us exactly 40 euros and much grief afterwards. Thinking back on it now, we probably could've bargained it down or asked the policeman near where we got off for help, but I was too angry and shocked to be logical about the whole thing. Oh well. Anyway, if you're ever in Rome, be sure to hail taxis that have a medallion that says "Commune Di Roma" on its doors. Anyway, we checked into Hotel Oceania around 11 a.m., and enjoyed a quick lunch on the steps of Piazza della Republica. In the afternoon, we walked to the Spanish Steps, the Trevi Fountain, the Pantheon, and the Church of S. Ignazio. We got to the last destination by a total fluke. We passed by it on our way home, and happened to overhear an English tour guide telling her group that this church has wonderful frescos on its ceiling. We followed them in. At first the frescos looked dark and far way, but the tour guide dropped a €1 coin into a machine, and all of the sudden the ceilings were brightly lit. The colors were brilliant, and everyone inside the church exclaimed "oooh!" and "aaaah!" We had a boisterous and fun-filled dinner at Hostaria Romana at the recommendation of our concierge.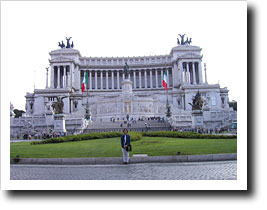 Me in front of the Vittorio
Emanuele II Monument


Day 6: After breakfast, we walked to the Collosseum from our hotel (about 15 minutes). The line to the ticket counter was 150-people deep, but we walked a little bit further to the entrance of Palatine Hill, where you can purchase a combo-ticket that includes admission into both the Collosseum and Palatine Hill for €8. Very good deal, considering 1) the Collosseum alone costs 6 euros and 2) you get to skip the long line there! We spent about half an hour walking around Palatine Hill, then returned to the Collosseum. There is now a path that cuts across the Collosseum so tourists can walk across the arena area. It didn't seem all that impressive when we were standing at the arena level — I mean, it's big, but we are used to gigantic American baseball and football stadiums already. Once we climbed up to the second "floor" and saw that people on the arena were much smaller, however, the structure felt much bigger and we were properly in awe. Do NOT buy the €4 audio tour; it's not all that informative, and you can learn much more by reading Rick Steves' Rome book. All that climbing up and down made us hungry! We bought tramezzini sandwiches at a snack shop nearby and enjoyed them in the shade near a fountain on one of the side streets. After lunch, we continued walking northwest, saw the Forum (didn't go in though) and were blown away by the sheer size of the Vittorio Emanuele II Monument. He's the first king of the united Italy, so there are attributes to him in every town and city, and they're all named Vittorio Emanuele II something or other. Anyway, by the time we were done taking pictures of good ol' VE2, it was 3 p.m. and we headed home for a brief rest. At night we enjoyed a performance of Giuseppe Verdi's "La Traviata" at the Anglican Church on Via Nazionale. It's the opera featured in the movie "Pretty Woman", and we recognized many of the arias and duets that were performed.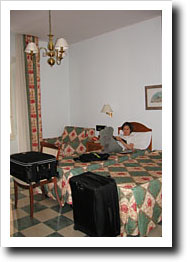 Writing in my journal
at the Hotel Aberdeen


Day 7: I had intended to get up early to see if I could catch a mass service at one of the nearby churches, but gave up the idea because I was tired from all the walking around. We got up later and later each day — the first day in Florence we got up at 6:30, but on this day we got up at 9! We must be used to the time difference now. Anyway, we checked out of Hotel Oceania and into Hotel Aberdeen a few doors up the block (because the latter wasn't available during Day 5 and Day 6). We took it slow and had a leisurely morning, then headed towards Galleria Borghese for our 1 p.m. reservation (required; you can make your reservation online). The more interesting pieces include Bernini's Rape of Prosepine and Applo and Daphne, as well as Canova's Venus, based on full-monty Pauline Bonaparte (Napoleon's sister), who, upon being asked, "How could you do such a thing?" replied, "The room wasn't cold." But my absolute favorite was what Rick Steves jokingly called do-si-do soldiers on the wall in Room VI. Look up towards the ceiling, and you'll know what I mean. They are just decorative reliefs around the room, but the way their shield and feet are positioned makes them look like they're doing country line-dancing. We spent about an hour going through the exhibits, then strolled down Via Veneto. We sauntered back to Via Firenze (where the hotel is located), then had dinner at Ristorante Target that night. This was my best meal in Italy.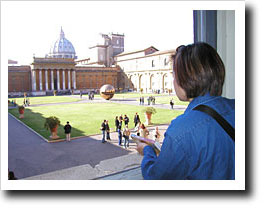 Looking into the courtyard
inside the Vatican Museum


Day 8: The Vatican Museum is very efficient at moving people! That is, when we arrived at 8:30, there were at least 300 people in a long line outside, waiting to get in. I thought it was going to take forever! But when the door opened promptly at 8:45, the line began moving, and we were inside in no time at all. The collection is displayed in chronological order, starting with Egyptian art and ending at the Raphael Rooms, where a passageway leads into the Sistine Chapel. My favorite pieces were Apollo Belvedere, poor Laocoön (see photo) and his two unfortunate sons (the gods were displeased with his ability to fortell the future during the Trojan war, so they sent two sea snakes to swallow up père et fils), and Raphael's gigantic frescoes. Michelangelo's art on the Sistine Chapel ceiling was incredible; it's hard to believe all those vibrant colors could survive after all these years. The tourists should be flogged, however. Many of them were talking and ignoring the guards who kept shushing them. It made the whole experience less solemn than it should've been. Anyway, we headed out of the museum around 12 and had tramezzini sandwiches at the Andrea Doria open-air market three blocks to the north. After lunch, we began making our way towards St. Peter's Square. Then we saw the Pope! Well, he was a tiny white speck in the distance when we arrived around 1 p.m. The square was absolutely PACKED (see photo); the Vatican had just canonized Josemarìa Escrivá (1902-1975, founder of Opus Dei) the day before, and festivities continued well into the next day (250,000 pilgrims streamed into Rome for the canonization). Apparently the Pope was giving a thanksgiving speech when we arrived. We took one look, and decided to delay our visit to St. Peter's Basilica 'till the next morning.

Day 9: Our second try at visiting St. Peter's Basilica was much more successful. All that's left of the previous day's crazy crowd were the thousands of chairs in St. Peter's Square waiting to be returned to the storage facility of the Vatican. We were lucky enough to catch the end of the 8:30 mass, where the beautiful organ music almost moved me to tears. A group of American tourists passed by; one lady loudly exclaimed, with tears in her eyes and full Southern drawl, "I'm so moved! My hands are trembly!!!" We spent half an hour inside the church, then took the elevator and climbd the 300-some steps up to the dome. The view was slightly hazy but pleasant (see photo). Even though the climb was claustrophotic and even slanted at an angle in parts, I was glad I made it.

Note: If you're going to Rome, I highly recommend that you read Dan Brown's Angels & Demons. It's a mystery novel, and covers many sights in Rome as visited by the book's two central characters during the course of 24 hours in an effort to track down the villain(s). I read it while I was in Rome, and was very entertained. My recommendation is that you read the book right before you get to Rome, then you'll have a great time recognizing the sights and monuments mentioned. I love how the author was able to seamlessly integrate historical facts into the fictional plot. It was a very good read indeed.

Days 1 - 4 in Florence | Days 5 - 8 in Rome | Days 9 - 12 in Milan